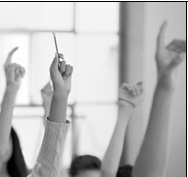 Leadership, Professional, and Business Skills for Students

When students discover their own self-worth and approach life prepared to achieve, the opportunities are endless. This is the philosophy behind the Teen Leadership course (available in middle and high school versions). The course teaches students to take responsibility, express themselves, and handle problems and decisions when they arise.

Schools can offer the Teen Leadership course in semester or full-year formats. The Flippen Group must certify a teacher to deliver the curriculum. The course builds personal responsibility and leadership skills through role plays, group activities, speeches, and projects.

Outcomes: Through the Teen Leadership curriculum, students will:


Develop a healthy self-concept, healthy relationships, and a sense of personal responsibility

Understand Emotional Intelligence and the skills it measures, including self-awareness, self-control, self-motivation, and social skills

Build skills in public speaking and communication as well as an understanding of personal image

Develop an understanding of principle-based decision-making and learn to make responsible personal and financial decisions

Recognize and resist peer pressure

Learn to become better family members and citizens

Appreciate the need for vision in goal-setting, personally and professionally

Approach: Teen Leadership prepares students for success in all they pursue, in and beyond school. The course follows an illustrated (consumable) Student Manual and comprehensive Course Leader's Guide that includes activities, handouts, and daily lessons.

Who: This course is intended for middle and high school students of all backgrounds and abilities. The practical skills taught in Teen Leadership will help any student make the transition to life after school. Districts are encouraged to utilize both middle and high school versions of Teen Leadership, but they may use only one, if they prefer.

Credit: Teen Leadership is approved for course credit in some states.

Getting started: To implement this curriculum, a school must send a teacher to certification training by The Flippen Group. Capturing Kids' Hearts is a prerequisite. For more information, please call The Flippen Group at 800.316.4311.



"We compared the first six weeks grades of our Teen Leadership stu- dents this year with last year, before they were in our class. Many were failing multiple courses, assigned to the detention center, had police records, etc. Now they are exper- iencing what it feels like to be successful. They are achieving academically, staying out of trouble, and truly exemplifying the Teen Leadership spirit. The curriculum is awe- some, and these kids are becoming true leaders. Thank you!"
Ele Manry
Middle School Teacher